I have watched BAFTA awards life on the 8/02/15. All the stars looked amazing. Especially …
 Julianne Moore in Tom Ford dress 
Why am I writing about it? My answer – pictures. Vogue has amazing pictures.
 Miley Cyrus in Alexandre Vauthier
 Rita Ora in Prada
I could be flicking through the pictures over and over again. Pictures have great impact on people. From a consumer point of view, what we see, this is what we want to get. We want to own it. So pictures sell the product and this is how future sales will either go up or fall dramatically.
was issued for the first time in 1892 in America. Condé Nast is a dominant upmarket publisher in the industry. The name of the Condé Nast Group derives from its American founder, Condé Montrose Nast who, in 1909, bought Vogue. He transformed it from a 24-page weekly into a monthly magazine. In 1909 magazine main 'target' became women. World War 1 made it impossible for a magazine to reach its readers. Decision was made and in 1916 first issues of Vogue was printed in UK and later in 1920 in France. Vogue  was launched in Australia in 1959, followed by Italian Vogue in 1965, and  L'Uomo Vogue in 1968. Condé Nast International began publishing in Brazil in 1975, in Germany in 1979, Spain in 1988,  Russia in 1998,  Japan in 1999, and entered the Chinese market in 2001.  Condé Nast India was established in 2007.
Since 1996, with the launch of Vogue.co.uk, Condé Nast International has been positioning itself as a leader in digital publishing, with branded websites, iPad and mobile apps, and editions on multiple devices.
At the beginning the covers were drawn,
Artist: Eduardo Garcia Benito 1926
 Source  1917
but in 1932 American Vogue became the first magazine receiving the colour photography cover.
 Edward Steichen 1932
Since then worlds best photographers worked for Vogue Edward Steichen, Hoyningen-Huene, Host,Steven Mizel or Helmut Newton.
Left to right: 1. Dress by Hattie Carnegie, 1939  2. Muriel Maxwell, American Vogue cover, 1 July 1939 3. Summer Fashions, American Vogue cover, 15 May 1941 Horst
Different Chief Editors were creating the look and impact of the magazine over the 20th century; Vogue had finally turned Vogue into Nr1 Fashion Magazine of the World, not just reflecting fashion trends, but effectively shaping them. 
Vogue audience is 12,663,000 people and most of them are professionals or work in the management. The main readers are women 87.5%, men 12.5%. What is surprising for me, is that even though readers have good jobs, not all of them have degrees – I think what attracts the readers are the pictures – humans base their life on visual aspect of the it and Vogue provides it.
This is what women think about Vogue:
81% of readers say they get the latest news about fashion and beauty from Vogue.
67% are inspired by Vogue to experiment in fashion.
For 53% Vogue is an authoritative adviser in choosing jewelry and luxury goods.
72% of readers trust advertisements in Vogue.
45% say: "I am a shopaholic, and this magazine is just for me!".
65% of readers bought goods advertised in Vogue.
Server results show how influential is Vogue magazine. It became the bible, a must have magazine while making shopping choices. I believe some women became addicted to it.
Vogue advertises the best and the most expensive brands.
 source ads 2014
 source ads 2014
source 1948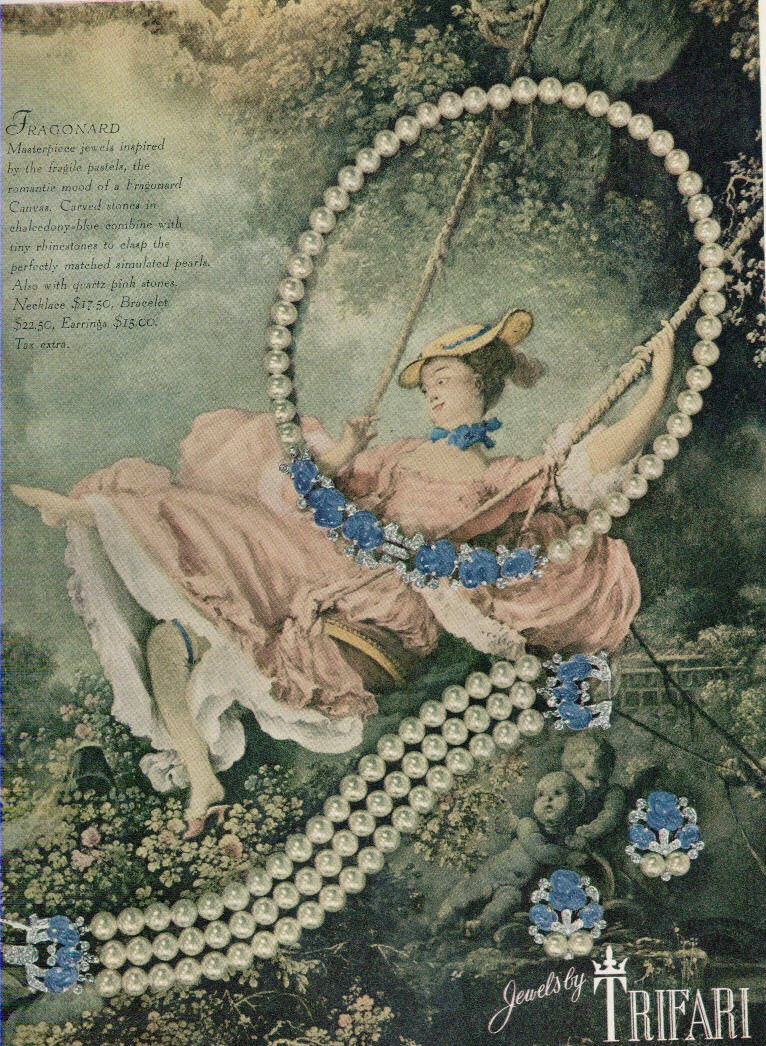 source 1948
They also advertise on the travel catalog page villas and holidays. The adds are available in different sizes and prices:
6cm x 1 column = £330+VAT (reduced from £894+VAT rate card) 12cm x 1 column = £660 +VAT (reduced from £1,788+VAT rate card) 12cm x 2 columns (1/4 page) = £1320 +VAT (reduced from £3,576+VAT rate card) 1 column = 4.8cm Your advert will also be available on the downloadable version of Vogue Magazine on the iPad, Zinnio and Kindle
References:
 Online survey of Vogue readers, Toluna, June 2014 Accessed on the 1/02/15
http://www.condenastinternational.com/heritage/history/ Accessed 1/02/15
http://www.laymyhat.com/forum/viewtopic.php?t=18802&sid=c45f7954ae4eb44108914c90be17a0ad Accessed on the 1/02/15