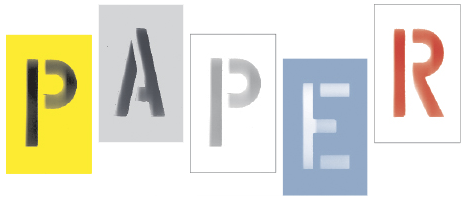 Paper was founded and launched in 1984 by editors Kim Hastreiter and David Hershkovits as a black and white 16-page fold-out. The magazine evolved into an 8-inch by 10-inch format and eventually into a glossy magazine.
Paper Communications is a magazine, a website and a creative strategy agency, which helps new brands to connect to the audience, the new generation.
The website also features PaperTV which showcases musicians, behind the scenes footage and party clips.
Paper Publishing Inc. also owns ExtraExtra, a marketing, event planning, and production company.
Magazine is issued 8 times per year and website provides a daily dose of culture news. Magazine introduces the audience to innovative people and idea.
Magazine look a lot more mature then for example i-D. It does not have a 'I am a 'rich b**ch'  look. What I find out is that its audience is age between 18-39 years old and what I found surprising is that its almost 50/50 (49% male and 51% female) in women and men reading the magazine. I think it's absolutely fantastic as this magazine provides other sex point of view. Women may find male articles attractive and other way around. 94% of the readers has college education. This people have good jobs which allows them to eat out 3-4 times per week (96%), go to the museums (70%) and attend the concerts (72%) and they shop online spending on average £800 per month on goods (97%). The reader is a very outgoing person, who is aware of the cultural evolution and is being attracted to changes or maybe even addicted.
Mickey Boardman is the editorial director of Paper magazine. He stared cooperation with the magazine 26 years ago and he witnessed how magazines front covers have changed throughout quarter of a century. Supermodels were the stars of the covers and then celebrities took over. Paper magazine VERY talked about cover girl celebrity Kim Kardashian West has brought international attention to the magazine proving that with the right cover, the most controversial cover anything can be sold. Photographer Jean Paul Gaude who loves exaggerating and stretching women's bodies. It was a new take on Grace Jones 85 Island life album photo cover.
 source
 source
 source
YES shocking front cover. Its objective was met, earn more, attract more people. How fare can it go, though???
Art is another aspect of this magazine. It is approachable and easy to digest, for someone like myself who hasn't got a degree in art, but appreciates beauty and creativity.
 source
This magazine also cultivates the icons.
 source
 Source
 Source 
And show new trends to the most indulgent audience. Something so simple as turtleneck, just set itself a higher position among new trends.
 Source
 source 
 source
 Source
References:
http://josephinewiggs.com/2013/09/07/paper-magazine-galleries-lsxx-tour-photo-diary/ accessed on the 7/03/2015
https://www.yahoo.com/style/i-sit-down-with-mickey-boardman-the-editorial-102481711218.html accessed on the 7/03/2015