source 
Nylon was co-founded in 1999 by Madonna Badger, Mark Blackwell, supermodel Helena Christensen, and husband and wife Marvin and Jaclynn Jarrett, with investment from Sam Waksal. The name 'Nylon' was chosen spontaneously, but then they realized that the first two letters are the initials for New York and the last three letters are the first three letters of London (New York London). The first issue was published on the 6th of April 1999.  10 issues per year are printed. Nylon is printed in Mexico, UK, Japan and Korea.
Nylon in an American Indie magazine – its content includes fashion, art, music, travel and technology. Their cover star is always a female celebrity, actress, musician – its purpose is to attract female audience.
Women targeted by the magazine are age between 18-35 years old, whom are single, college educated and employed. Its Indie side attracts people who can't be 'bothered' to go through mainstream magazines, but whom want to stand out from the crowd. The Nylon Guys is a separate magazine targeting men.
 source
The magazine was criticized for its cover layout and for not filling the 'dead space'. In the first ever issue of Nylon Magazine the rule of thirds has been applied to the photography with Liv Tyler's face situated at the top of the page to increase her importance. However, there is no website, date or bar code displayed on the cover. 11 years later  cover lines added, make the cover more busier and fill the 'dead space'. The photography has also chaneged with a mid shot instead of a close up to capture the fashion of the cover star which would apply to fashion enthusiasts. 
 source
Nylon magazine advertise itself well on the social networking sites such as twitter, YouTube, Facebook. Easy accessibility allows the magazine to be quickly and easily received by the audience on the move/go. It also realized three advice book with partnership of Rizzoli Publishing:
source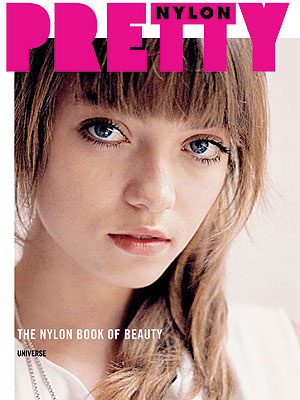 source  
source
Nylon has collaborated with Urban Outfitters to create clothing line; creating sophisticated, empowered and high fashion cloths. Gia Coppola – designer.
 source
 source
 source
I love the Indie/alternative side of the mag. This is the feature which appeal to me the most. I have never followed the mainstream fashion and trends – well maybe I would take some inspiration from the mainstream, but I would always make it my own. I would always try to look a bit edgy – clothes, hair or makeup. This is why I really like this magazine.
References:
www.scribd.com Accessed on the 6/03/2015
http://en.wikipedia.org/wiki/Nylon_%28magazine%29 Accessed on the 6/03/2015